A lathe is used to remove excess material from a workpiece so as to style and size it as desired. Originally, these tools were used solely on metal workpieces. Today, however, lathes can also be used on wood.
There are several different types of lathes available. And in this article, we will be looking at the most common types.
1. Engine lathe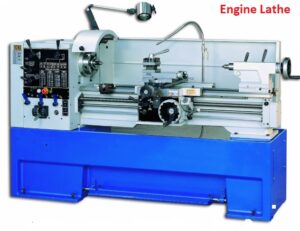 Also called a center lathe, is shaped horizontally and is predominantly used to cut metal. It uses a stepped pulley to rotate a spindle with varying speeds. The speeds of an engine lathe can range from 1200 to 3600 RPM.
Specifications of Engine Lathe
Variable speed spindle
Stepped pulley for operating the spindle
Uses of Engine lathe
Drilling to create square blocks
Spinning sheet metal
Advantages
High and variable spindle speeds
It is suitable for low power operations
Disadvantages
Is not as accurate as a CNC lathe
Wood lathe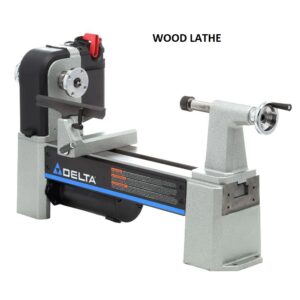 As its name suggests this type of lathe is used on wood. It is characterized by a headstock, bed, tailstock, and tool rest. These types of lathes are usually smaller in size than their metal counterparts. 
Features of Wood Lathe
Belt driven spindle connected to a motor
Uses Of Wood Lathe
Advantages
The tool rest can be adjusted to match the operation at hand
Are smaller and require less space than some metal lathes
Disadvantages
Require manual operation and are thus not as powerful or accurate as metal lathes
Tool room lathes
Tool room lathes are a type of engine lathes that are used for precision works. These lathes are available in small and medium sizes. In a tool room lathe spindle accuracy is emphasized more than in a standard engine lathe.
Features
135 cm to 180 cm bed length
Taper turning attachment and follower rests
Uses
Production of precision fixtures
Advantages
Is more accurate than a standard engine lathe
Is smaller than a standard lathe and requires less space
Disadvantages
Are used only for small work pieces
Capstan lathes
Capstan lathes are also an improvement on the standard engine lathe. They offer the ability for mass production. They feature a hexagonal head that can change the operation without the need for manual changing
Features Of Capstan Lathe
Boring and reaming
Turning workpiece and end face
Uses Of Capstan Lathe
Chucking types of work
Mass production turning
Advantages
Can accommodate various operations to be performed on them
Easy to change operations
Disadvantages
Not as accurate and precise as tool room lathes
Bench lathe
The bench lathe is smaller than most and as its name suggests it is mounted onto a bench. While small, bench lathes have the same features as larger lathes. They are mainly used for smaller and more precise works.
Features Of Bench Lathe
A hollow bar for attaching accessories
Electric motor or foot powered spindle
Uses Of Bench Lathe
Small precision work pieces
Reducing workpiece material for a new shape
Advantages
Smaller than standard lathes
Can do the work of a larger lathe
Disadvantages
You need to consider the type of bench to mount the lathe onto
Automatic lathes
Unlike other lathes, automatic lathes can handle the entire process automatically without the involvement of an operator. They are used in mass production and feature high-speed spindles and can have single or multiple spindles.
Features
High-speed single or multi-spindles
Automatic operations
Uses
Mass production applications
Advantages
Requires little to no input from the operator
Can be used for more demanding work
Disadvantages
Large and will require more space
Special purpose lathe
These types of lathe are used for applications that cannot be handled by standard lathe hence the name. Usually, they are used for particular heavy-duty tasks. Some of the common types of special purpose lathes include; Vertical lathes, wheel lathes, t-lathe, multi-spindle lathes, production lathes, duplicate or tracer lathes. These are used for different special-purpose tasks.
The wheel lathe is used for machining rail rods and turning the threads on a locomotive wheel. The t-lathe, on the other hand, is used for machining jet engine rotors. 
Advantages
It can be used for applications that other standard lathes cannot
Are used on larger scale tasks
Disadvantages
Do not make any practical sense for small use applications.
CNC lathe
The term CN stands for computerized numerically controlled. This type of lathe uses a computer program to control its process. Thus, a program is fed into a computer to operate the lathe. Like the capstone lathe, this type of lathe is also used for mass production.
Features
Computer program operation
High spindle speed
Uses
Mass drilling of workpieces
Thread cutting
Advantages
Are more accurate and precise than other lathes
Require minimal skill to operate
Disadvantages
They are large in size and typically cost more
Other types of lathes
Horizontal lathes: these have the main axis parallel to the workbench and look like they are lying on the ground. They are typically used for long and long materials with a small diameter.
Vertical lathe: in this lathe, the spindle is perpendicular to the table, and the workpiece is clamped to the table. These types of lathes are ideal for heavy workpieces with larger diameters.
Crankshaft lathe: This is a special-purpose lathe used to machine the connecting rod and the crank arm side of an internal combustion engine.
Roll lathes: this is another special-purpose lathe predominantly used to produce rolls on the rolling mill. It is heavy and cylindrical in shape. 
Pipe thread lathe: This type of lathe is used turning large diameter pipe fittings.
Slant bed lathe: This type of lathe has an inclined rail structure.
Conclusion
Different types of lathes are used for various purposes. Some are large and used for heavy-duty tasks, while others are small and used for more precise applications. Also, lathes can be used on wooden and metallic workpieces.
The CNC lathe is the most advanced of all the general types of lathes above. The inclusion of computer programming in its operation guarantees efficiency, speed, and accuracy. Special purpose lathes are used in specific industries and are designed to suit those industries. 
All the same, lathes do pretty much the same functions which include centering, turning, boring, drilling, chamfering, and thread cutting.