When you want a welding rod with a high deposition rate for flat or down hand welding, one of your best choices will be the 7024 welding rod. This is a carbon steel rod with a heavy iron powder coating.
An easy-to-use electrode, the 7024 is known for its convex weld bead and heavy slag. The slag does peel off easily though. It also has a low spatter and a stable arc. It is designed to be efficient in a single pass. 
The 7024 welding rod features
Rutile titania-oxide flux coating: the 7024 has a thick flux coating with a high iron powder content. It is this heavy flux that gives the rod its signature convex weld bead and high deposition rate.
The rod has a maximum tensile strength of 70,000 PSI 
Deep penetration: this rod offers deep penetration and is better at penetrating rusted or dirty surfaces than other electrodes
Fast fill: This rod is known for being fast and can be used in the down hand position and making horizontal fillet welds in a single pass
AC and DC polarity: This rod can be used in both AC and DC and can be used with the drag technique in both AC and DC.
Buy welding rods at the best price on Amazon. Check here
Mechanical properties of E7024
| | |
| --- | --- |
| | |
| | |
| | |
| | |
| | Rutile(titania oxide) and Iron Powder coated |
| | Flat and horizontal positions |
| | |
| | |
| | |
welding parameters of 7024welding rod
Diameter (inch)
Polarity
Current
(amp)
Optimal Amps
Deposition
Rate
(lb/hr)
Deposition
Efficiency
Volts
Range
1/8
DCEN, AC
130-150

140
3.42
65.8
26-27
5/32 
DCEN, AC
180-225
200
4.94
68.2
26-28
3/16
DCEN, AC
200-280
240
6.06
69.3
26-28
7/32
DCEN, AC
250-320
280
7.35
69.0
1/4
DCEN, AC
300-360
330
8.83
69.1
The 7024 welding rod uses
7024 Welding Rod Applications
Used in the repair of heavy construction and earth moving equipment

Used in the repair of truck bodies, ship barges, and rail cars

Welding mild steel and other steel alloys including carbon steel

Used in welding structural steel for building construction.


Used for general welding structures and heavy fabrication

The 7024 welding rod specifications and settings
As you may have guessed from its name, this is not all positions rod. It can only be used in two positions, horizontal and flat positions. As for the 7024 welding rod amperage, it depends on the thickness of the rod.
The thinner 3/32 inch rods will use an amperage of between 70 and 170 amps. For thicker rods such as a 3/16, you need an amperage of between 180 and 390 amps. As for polarity, it can be used with both DC and AC as well as with DCEN and DCEP. 
V-notch impact toughness requirements for the 7024
There are no toughness requirements for this electrode. However, it does V-notch toughness value requirement. This is set at 20 ft-lb at 0 degrees Fahrenheit. Or 2J J at 20 degrees celsius.
Chemical and mechanical properties of the 7024 rod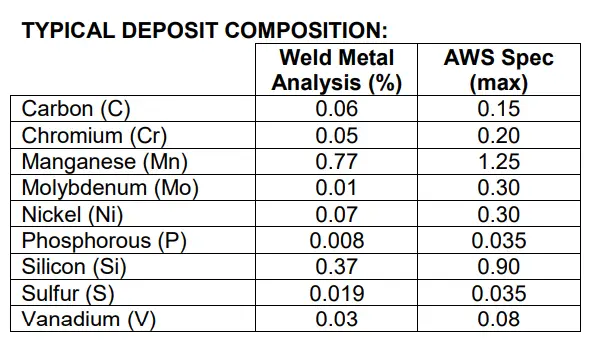 This rod contains 0.15% carbon, 0.20% chromium, 1.25% manganese, 0.30% molybdenum, 0.30% nickel, 0.035% phosphorus, 0.90% silicon, 0.035% sulfur, and 0.08% vanadium. As for its mechanical properties, it has a maximum tensile strength of 70,000 PSI. Its yield strength stands at 58,000 PSI and its elongation is 17% at 2 inches. 
The E7024 vs E7018
How do the 7024 rods compare to the 7018 rods? Both have a tensile strength of 70,000 PSI but are quite different. Perhaps the most notable difference between the two is the welding positions. 
The 7018 can be used in all positions while the 7024 can only be used in horizontal and flat positions. Does this mean the 7018 is a better rod? Well in most cases you will be better served with the 7018.
Nevertheless, in some instances, the 7024 will be a better rod. The 7024 has a thicker flux coating compared to the 7018. This gives it better penetration and a higher deposition rate. Thus if you are working on thick rusted sheets of metal the 7024 will be an ideal choice.
Overall, the 7018 may be an overall better welding rod, but for welding thick sheets of steel quickly it can't compare to the 7024. The 7024 welds quicker and is more forgiving on rusted or dirty surfaces.
Also, the 7024 unlike the 7018 is not a low hydrogen rod. This means you do not need to keep it in an oven. Thus the storage requirements for the 7024 are not as strict as those of a 7018 or even a 7016. 
How To stick Weld with E7024 Welding Rod 
Due to its deep penetration and high deposition rate and thick flux, the 7024 is best suited for stick welding. When welding with the 7024 there are a couple of things you will note. First, you need to run your welder at a higher amp than what you would normally do.
The basic rule of thumb is to use 1 amp per .001 inch of the rod. So when using a ⅛ inch 7018 you will use about 125 amps. However, this rule does not apply to the 7024 due to its thicker flux. If you run a ⅛ inch 7024 at 125 amps it will not run.
Therefore it is wise to increase the amperage to 175 amps. Also for the best results use an AC welder to avoid arc blow. There is no risk of arc blow when you use an AC welder to weld with the 7024 rods. 
Use a drag technique when welding on a flat surface. It will not work well on joints set up at a certain angle say a 90-degree angle. This is because of how fluid its weld puddle is. 
Frequently Asked Questions
Conclusion
The 7024 welding rod is not without its cons. However, when used with the right amperage setting and polarity, in this case, AC, it is an easy-to-use rod. It particularly excels at welding thick sheets of metal with dirty or rusted surfaces